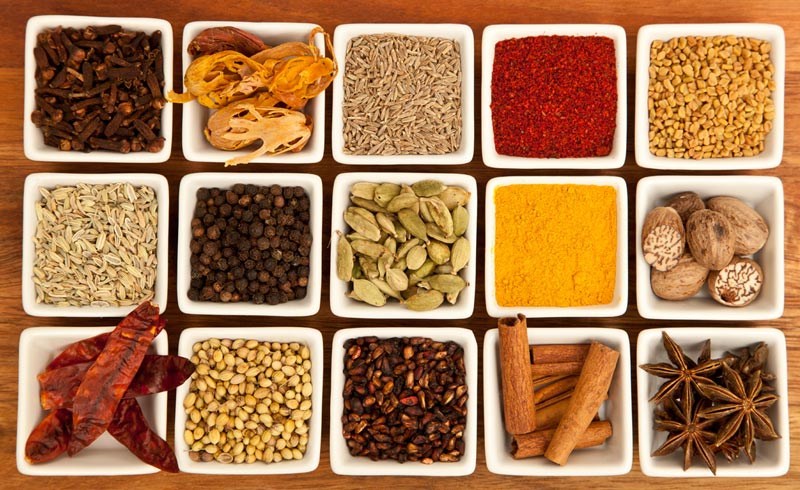 Spice mixes have always been a part of traditional cuisine from across the world. These mixes consisting of the choicest of spices create a balancing effect which beholds the knowledge of our ancestors. These mixes impart a characteristic taste and aroma to the preparation. Moreover they bring together the combined health benefits of a number of spices. Read about these exotic spice mixes from around the world.
Traditional Spice Mixes:
African Spice Mix:
Berbere: Berbere is an exotic mix of spices which is used extensively in the cuisines of Ethiopia and Eritrea. Its basic ingredients are chilly peppers, ginger, garlic, oregano seeds, black pepper, fenugreek and mustard
Dukkah: From Egypt, this spice mix consisted of tossed seeds and nuts. Hazlenuts, cumin, coriander and sesame seeds are the main constituents.
Harissa: Harissa is a popular spice mix used in Arabian and north African cuisines. It is made of smoked red chilly pepper which is mixed with olive oil, garlic paste, whole coriander seeds, saffron, caraway and rose.
Asian Spice Mix:
Chinese 5 Spices: It is a mix of 5 spices which is used in traditional Chinese cuisine. Its constituent ingredients are star anise, clove, Chinese cinnamon, Sichuan pepper and fennel.
Gomasia: This spice mix is native to Japan where whole, unhulled sesame seeds are tossed and coarsely ground to be served with salt as seasoning.
European Spice Mix:
Finnes Herbes: This blend native to France consists of 4 dried herbs, namely - chives, chervil, tarragon and parsley.
Khmeli Suneli: This spice mix is from Georgia. It is a warm mix of chosen herbs and spices. Among the necessary ingredients present are - dil, parsley, black pepper, coriander seeds, celery, mint, thyme, hyssop, blue fenugreek, marjoram, saffron and hot pepper.
Quatre Epices: Means 4 spice. This blend is popular in France and consists of cloves, nutmeg, ginger and pepper.
Herbes de Province: This spice mix is from south-east France. The constituent ingredients include - savory, marjoram, oregano and thyme.
Indian Spice Mix:
Chat Masala: Its a tangy mix of tossed cumin, coriander, cinnamon, cardamom, cloves and dried mango powder or aamchoor. It is a common seasoning for street food across Indian sub-continent.
Garam Masala: It is a blend of hot spices, namely - cinnamon, cardamom, cloves and star anise
Indian 5 Spices: It is an exotic blend of 5 spices which adds a very mild flavor to the preparation. It is typical to the eastern states of Bengal, Bihar, Orissa and Assam. Its constituents include - cumin, black cumin, fenugreek, fennel and mustard seeds.
All Your Spice Needs - Prakriti Online Store
Also Read: Recipe for Cinnamon Zucchini Cake
By
Abhro Bhattacharjee